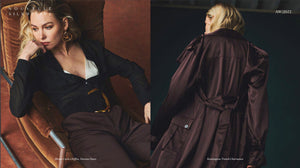 ZSISKA jewellery is made of resin and can be combined with other high quality materials such as 24k gold leaf and pure silver leaf. After experiencing with different techniques ZSISKA found a way to make resin as clear as glass and very light in weight. These developed techniques resulted in jewellery that is easy and very pleasantly to wear!

The creative flair and artistic energy of the ZSISKA design team adds the perfect touch to all ZSISKA jewellery and accessories. The inspiration of every collection is found in the wonderful diversity of cultures, art, nature, upcoming fashion trends and colours.
Strong and elegant women wear ZSISKA. Women who know what they want and who stand out in the crowd. Women you notice! 
---
4 products