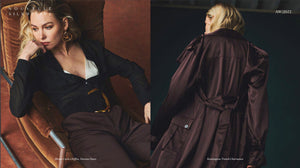 HENRIETTE STEFFENSEN COPENHAGEN was launched in Denmark in 2003, in a few selected boutiques. Fleece fabric has always been an important part of the collections, and we have never stopped developing the Italian and Portuguese produced fabric. Years ago, we decided to focus more on lifestyle than on fashion.
Working with the design, colours, and quality of workmanship we constantly aim to create garments that will last for many years. We are proud that many of our designs remain a favourite piece many years after it is bought.  When sustainability is a part of the company's DNA, it does not make sense to make clothes that only last for a season.
In addition to the ultimate casual soft feeling in our fleece fabric, we have added jersey styles with the same DNA and feeling.
Throughout the years, men have requested a similar collection with masculine simplicity. In 2019 we lounged Carlbysteffensen, with a selection of sweaters, cardigans, and accessories for men. Production of both brands takes place at carefully selected factories in Europe.
Sustainability is a big part of our self-understanding and we constantly aim to minimize our impact on the planet. Our NO WASTE label is a limited edition produced from leftovers from mail production. We hope you feel inspired to browse our website to learn more about our universe.
---
19 products