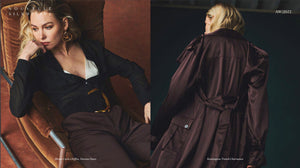 It began in 2003 in Nijmegen, when the first Winter and Summer collections were sold at private shopping events. After 2 successful years, the first ELSEWHERE standalone shop opened its doors in Nijmegen in 2005. Since then, ELSEWHERE's impressive expansion does not only include The Netherlands but also other countries in and outside of Europe and overseas. Elsewhere stands for Dutch design with a comfortable fit and honest price, made in Europe and selling Worldwide.
We like to inspire women and encourage them to embrace & express their unique personalities. Life's too short to wear boring clothes! The Elsewhere woman is confident, proud of who she is and what she does. She is true to herself and likes to see her cultured spirit reflected in her clothes.
---
0 products
Sorry, there are no products in this collection.